About Us
Our vineyards are ideally situated in the middle of California's Central Coast wine region, or as we like to call it, "grape paradise". Here the days are sun-filled and the nights temperate, a perfect combination for varietals that need a good amount of heat to develop full body and flavor.
We often experience diurnal temperature fluctuations of 40 degrees from day to night. Rising hot air in the south pulls the marine layer from the Pacific Ocean down the valley, causing daily high winds in the late afternoon that lead to this dramatic drop in temperature. The cool ocean air has a natural cooling effect that causes a unique lengthening of the growing season. The result of this longer-than-average season is ramped up intensity and wow-factor, with dramatic, juicy flavors that increase in lushness as the wine opens up.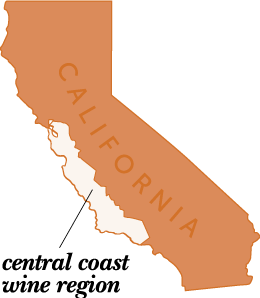 While all great wines begin in the vineyard, our wine is not just a story of ideal vineyard locale. In the winery, our winemaking team is intent on enhancing what Mother Nature provides. When the grapes arrive at the winery, they are destemmed, crushed, and fermented in small lots in open top fermenters. Gentle handling of the fruit, juice and wine is essential and each variety is fermented separately to retain its unique character. During the blending process just prior to bottling, the proportion of each varietal is chosen to accentuate the richness of flavor and maximize depth, complexity, mouthfeel and finish. The result is a smooth, fruit-forward wine with a rich yet supple and integrated tannin structure.